Family Owned since 1998
Fine Teak Outdoor Living
Fahrul Fahmi has more than 20 years of experience in the Industry with Mutiara Jepara Indofurni.
As one of the most reliable furniture manufacturers from Indonesia, CV. Mutiara Jepara Indofurni provides teak furniture for both domestic and global consumers. Here, you'd be able to find a range of collections in classic and modern styles, including outdoor and patio furniture with Grade-A solid teak wood that has the best quality.
Carrying visually appealing products, the company manufactures furniture which is mostly made of teak wood material. The offered furnishing designs would be perfect whether you want something splendid or stay on the minimalistic lane. Not to mention, the price is competitive with the standard of the global market.
You may wonder, why teak wood? Since outdoor furniture is put out there without some protections unlike your indoor furnishing, they need to have strong quality, long durability, and high resistance against weather.
Aside from the material, the manufacturer also emphasizes how the furniture is designed. As people often say, the garden is the extension of the house and the personality of the owner. To provide satisfaction in this area, the traditional methods of carpentry that require high crafting skills are combined with modern furniture machines, such as tenon mortise. This way, the furniture is created with high dedication and attention to each detail of every part of it. Additionally, all products went through quality control to ensure excellent standards.
Moreover, the customers are indulged with the option to get custom designs as a part of the company's services. Feel free to discuss and make a request to get your dream furniture that's created only for you.
No need to waste your time anymore, and place an order for the available or custom design furniture with the best quality and be rest assured it will last for a long, long time.
You may also enjoy the excellence of our business as the company is committed to building long-term relationships with the customers by providing not only satisfying products but also services.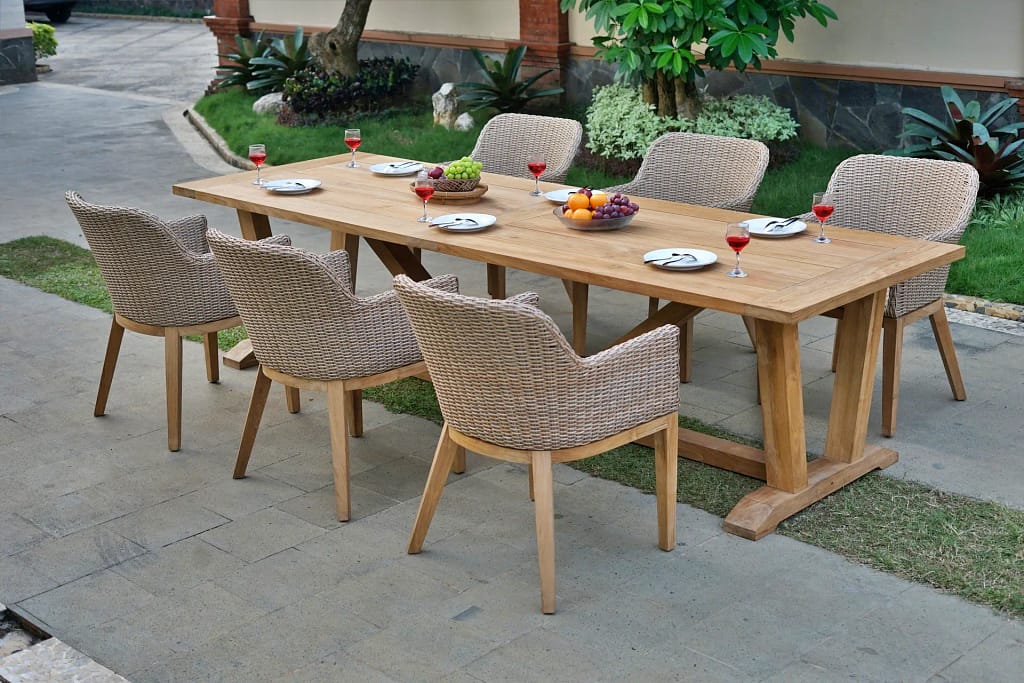 Certification
Mutiara Jepara Indofurni recognizes the importance of minimizing the impact of our manufacturing activities on the environment, SVLK is the main key in entering the international wood furniture market. It's certified that the manufacturer's production uses environmentally friendly raw material which is managed by the Indonesian government. This also means that all of Mutiara's products come from legal sources and all our export will be accompanied by a V-Legal document. FSC 100% teak is available on request.
REACH OUT TO US TODAY FOR A REMOTE CONSULTATION